When Europe is caught in slush or rain, escaping the winter blues without traveling halfway around the world is actually not as easy. But there are those small islands, a small Spanish archipelago in the Atlantic off Western Sahara. Why did we end up there, more precisely in Tenerife?
1. There is light
If everyone in Austria is looking forward to December 21st, it is because the winter solstice is approaching and the days are finally getting longer again. In addition to the already short days, there is also a lot of fog in Salzburg in December. There are an average of 2 hours of sunshine per day. "Pfffft", makes the brain. Tenerife, on the other hand, has at least 5 hours of sunshine to offer. It's like after-sun balm on the vitamin D deficiency of the psyche.
2. The perfect feel-good climate for (almost) everyone
The climate on the Canaries is characterized by warm trade winds combined with the cooler Atlantic current. In concrete terms, this means: pleasantly warm temperatures all year round. Warm but not too hot. The thermoter hardly ever falls below the 20 degree limit and just as little does it rise above 30 degrees. Eternal early summer feeling.
3. Perfectly timed sunrises & sunsets
Watching the sun rise over the Atlantic at around 8 o'clock from the comfort of your couch? A coffee in hand, no stress and then (after an equally spectacular sunset) daylight until 6:30 (so it's dark just in time for the kids to go to bed 😉
4. The lightness of being
The Canarian way of life is a bit like the "Pura Vida" of Europe. Always a smile on your face, good and healthy food and let the seriousness of life be serious.
5. Watch shooting stars and make a wish
With the Sahara on one side and the Atlantic on the other, Tenerife, with its clear skies, clean air and high altitude, is one of the best places in the world for stargazing. At this time of year, about 2000 years ago, some people are said to have been chasing a comet. On the Canary Islands you could watch the icy wanderer in space, lying relaxed in a deck chair – if you are not distracted by the breathtaking sight of the Milky Way.
6. A little bit of Caribbean feeling and Cuban street scenes
You wished you were in Cuba while watching the shooting stars? You have The La Habana was actually built after the model of La Laguna (Tenerife). For those who – like me – always long for Cuba and its attractive La Habana, dreams come true for them here.
7. Finally experience the fascinating marine mammals live
Tenerife is considered one of the best islands for whale watching. From the bottlenose dolphin (pinball) to the sperm whale and orca to the blue whale, you can see almost everything that has status and reputation among marine mammals. A dream of our gang that we have not yet been able to successfully fulfill. In any case, the chances are good on Tenerife. Actually very good.
8. Best place for active vacationers
Anyone who has been following us for a long time knows that we like to be on the go, to move and to experience something. Of course we can also hang out on the beach, but we are certainly not classic beach holidaymakers. Tenerife offers everything that makes our outdoor heart beat faster: Bike routes for every mood, countless hiking routes for all levels, perfect wind for kiting, great waves for surfing…
9. Piscinas Naturales and Breakwaters
Anyone who knows the Atlantic knows how rough the ocean can be and how little child-friendly its powerful waves are. Piscinas naturales are therefore the perfect consensus to enjoy the soothing sea water with the little ones without being washed away by the powerful waves. At Bajamar, these natural infinity pools are also available in children's format. Other beaches have tamed the ocean with breakwaters, so Playa San Juan or Playa Las Teresitas are also perfect for little beachworms.
10. Culinary delicacies
Regional and seasonal is rather bah in winter. Greens that have been stowed around for ages too (not only in terms of taste, but also in terms of CO2 value). This is definitely not a problem on the Canary Islands: fresh fruit and vegetables on every market as far as the eye can see. Juicy mangoes and apples, sweet bananas and papayas, delicious avocados and tomatoes and tangy oranges… the menu makes you jump for air and also puts you in a good mood.
11. Farewell to everyday life
Two working parents, three children, lockdowns, stress, no grandmother around to relieve the burden for a moment, childcare facilities that only take care of children from time to time. There were many things that have weighed heavily on our everyday life over the past few weeks. The mood was tense more often than we would have liked and our lives were much less harmonious than we would like. So the flight forward, out of the hamster wheel and everyday carousel, into a relaxed family time.
12. Goodbye cough & runny nose
Who doesn't know it, every winter the same thing from one snotty nose to the next cough and back. The spring climate, together with the salty air, works wonders for pierced nasal mucous membranes and heating house dust coughs. Yes, you can imagine it – we sent the cold and cough straight home.
13. Relatively short flight time & affordable prices
And finally, very pragmatic. Escape from foggy gray mud in 4.5 hours and disembark in spring. There are many good direct flight connections that are affordable for everyone outside of the Christmas holidays.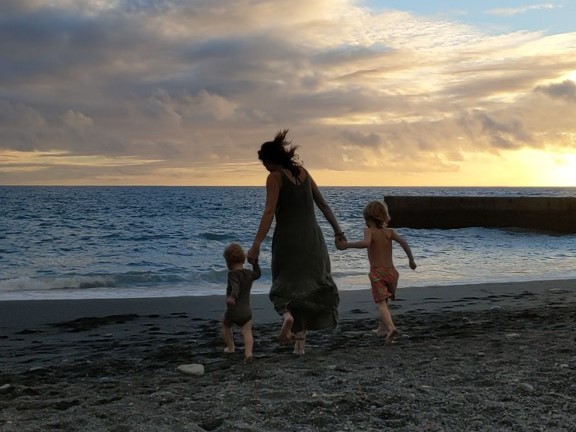 More interesting things to read
LET'S STAY CONNECTED!
Follow uns on Facebook, Instagram and Pinterest und bekomme immer aktuelle Updates, neueste Bilder und Storys.