Bled is a picturesque town in Slovenia that offers an incredible variety of outdoor activities. If you only have one day for this beautiful place, you can still enjoy it from a variety of perspectives. It was our second visit to Bled and – as just a stopover on the way home from our Trieste holiday – this time a day trip. For our first stay in Bled we took a little more time on our Slovenia road trip, but the short stop was really worth it. It's autumn and we've rediscovered Bled in its most beautiful bright autumn colors. An absolute recommendation for everyone who has only visited Bled in summer. Our program, a combination of enjoying traditional dishes, hiking and rowing on Lake Bled, promises a great day of adventure.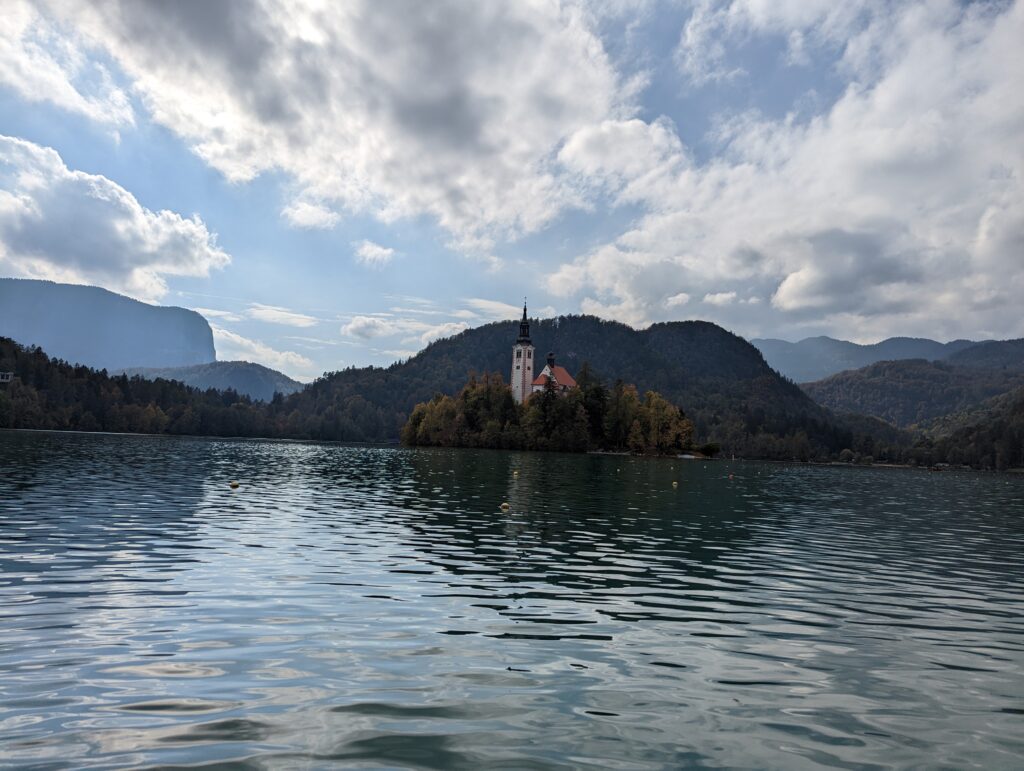 Parking and starting point
We parked at the campsite in Bled. The parking lot is chargeable, but a super good starting point for today's destination. Sava Camping Bled is located on the western shore of the lake (Kidričeva cesta 10c, 4260 Bled). There is also a restaurant with a terrace and a direct view of the lake, which we can highly recommend because of the really excellent food. After lunch we go on our first adventure.
A rowing boat ride on Lake Bled
Lake Bled is an indescribably idyllic piece of land (water) and equally enchants with a picturesque mountain panorama, the imposing Bled Castle and a church on a small island in the middle of the lake. In fact, from the lake you have a completely new perspective of the impressive surroundings and the pretty little town of Bled. A boat trip on the lake is a great way to experience the special atmosphere and explore the area and the kids had a blast.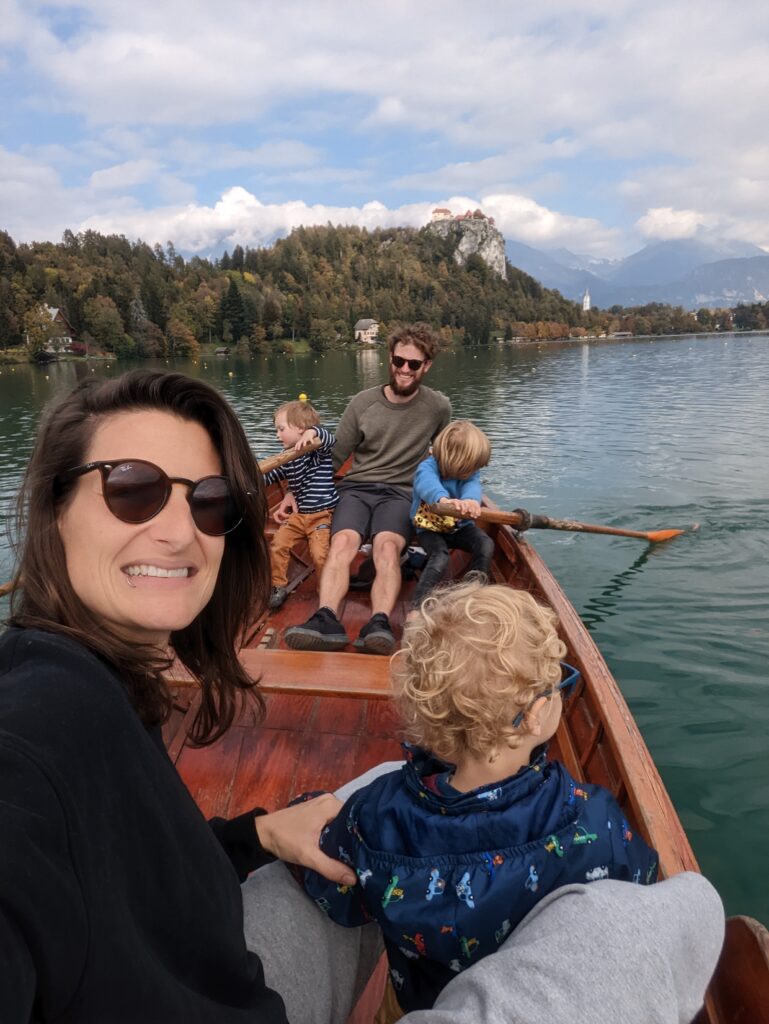 Stopover on Blejski Otok island in Lake Bled
The island of Blejski Otok, which can only be reached by boat, houses not only a church but also a small traditional cafe. While the children collect leaves under the big walnut tree in front of the church, we enjoy the moment of peace and the surrounding landscape with a good espresso. The café also has some traditional cakes on offer (but be careful: unfortunately there are no Bled cream cakes here).
The rowing boat costs about €20 for an hour. Since our stay was in October and already low season, we were allowed to stay a little longer and also had the lake to ourselves. Nevertheless, we were running out of time and had to row back at full speed to be back in time. We also wanted to do a little hike.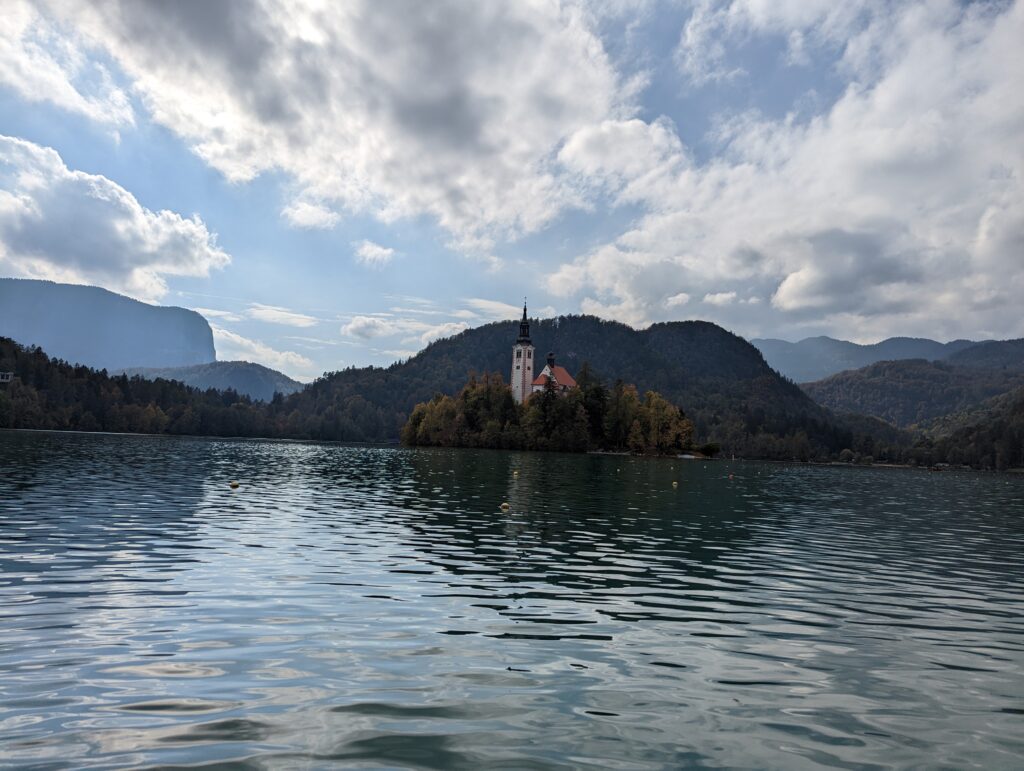 Hike to the viewpoints Ojstrica and Mala Osojnica
For a real adventure, hike to the viewpoints of Ojstrica and Mala Osojnica. The hike to the two vantage points starts almost opposite the boat rental. We can definitely recommend that you take the path, even if the ascent is rocky and sometimes a bit steep. The views are simply breathtakingly beautiful, which is why you should visit at least one of the viewpoints. You can climb the small peaks individually or combine them into a small circular tour.
The hike to the viewpoint at Lake Bled at a glance
Type: same way back and forth, or possible as a circular route
Start: at Kidriceva cesta (near campsite Bled)
Length: about 2km
Duration: approx. 1 hour
Altitude difference: approx. 100 m
Because of the nature of the path, we strongly recommend that you wear sturdy shoes. The short path through the forest is quite unspectacular and you would not guess what panorama opens up once you have reached the top. After so much action, we deserve something sweet and treat ourselves before we continue our journey: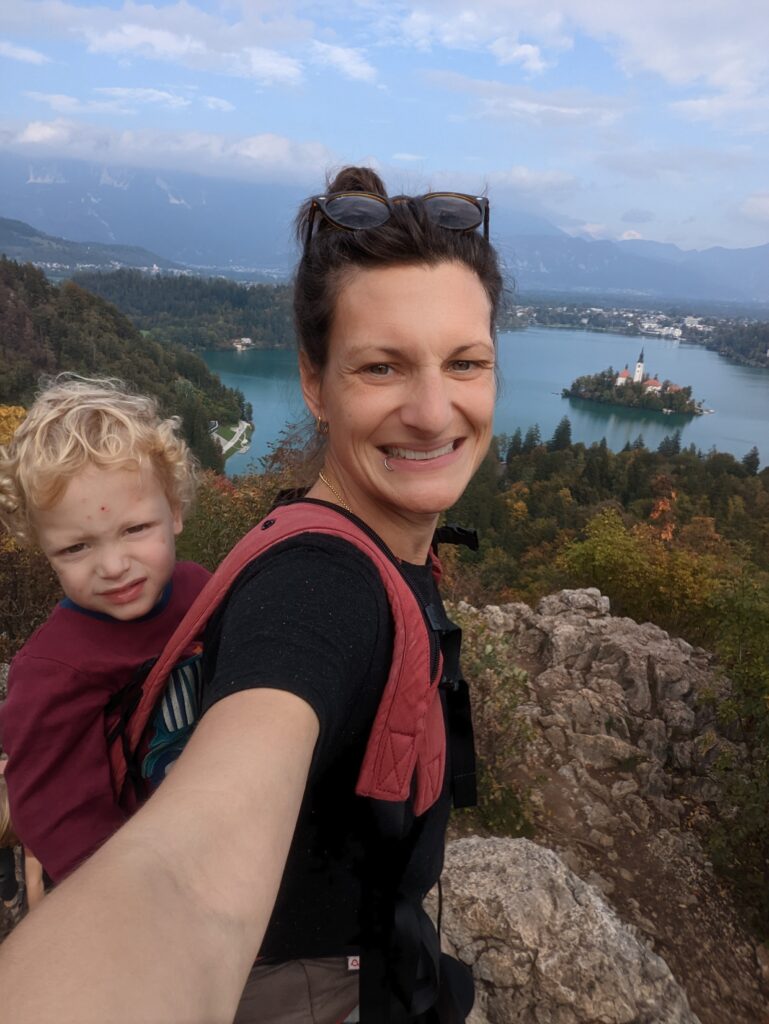 Die Legendäre Cremeschnitte zur Belohnung
We treated ourselves to a grand finale with the typical Bled cake. The best »Kremšnita« (i.e. Bled cream cake) can be found in the confectionery »Slascicarna Zima« or the »ŠMON Slaščičarna« in the town centre. And it is actually worth trying these (and some other sweet temptations) there. I couldn't say straight away which one I would have liked better and found both excellent.