City trips are usually intensive, packed with sights and combined with a half marathon through the city. A city trip with children differs significantly from what you are used to without children. Children slow down the pace and let you approach everything a little more relaxed. They need more downtime and a more balanced program so the visit doesn't turn into a disaster. The nice thing about it: you slow down, automatically take on less and discover corners that are not in every travel guide. Here are a few selected activities to round off your trip to Berlin with children perfectly.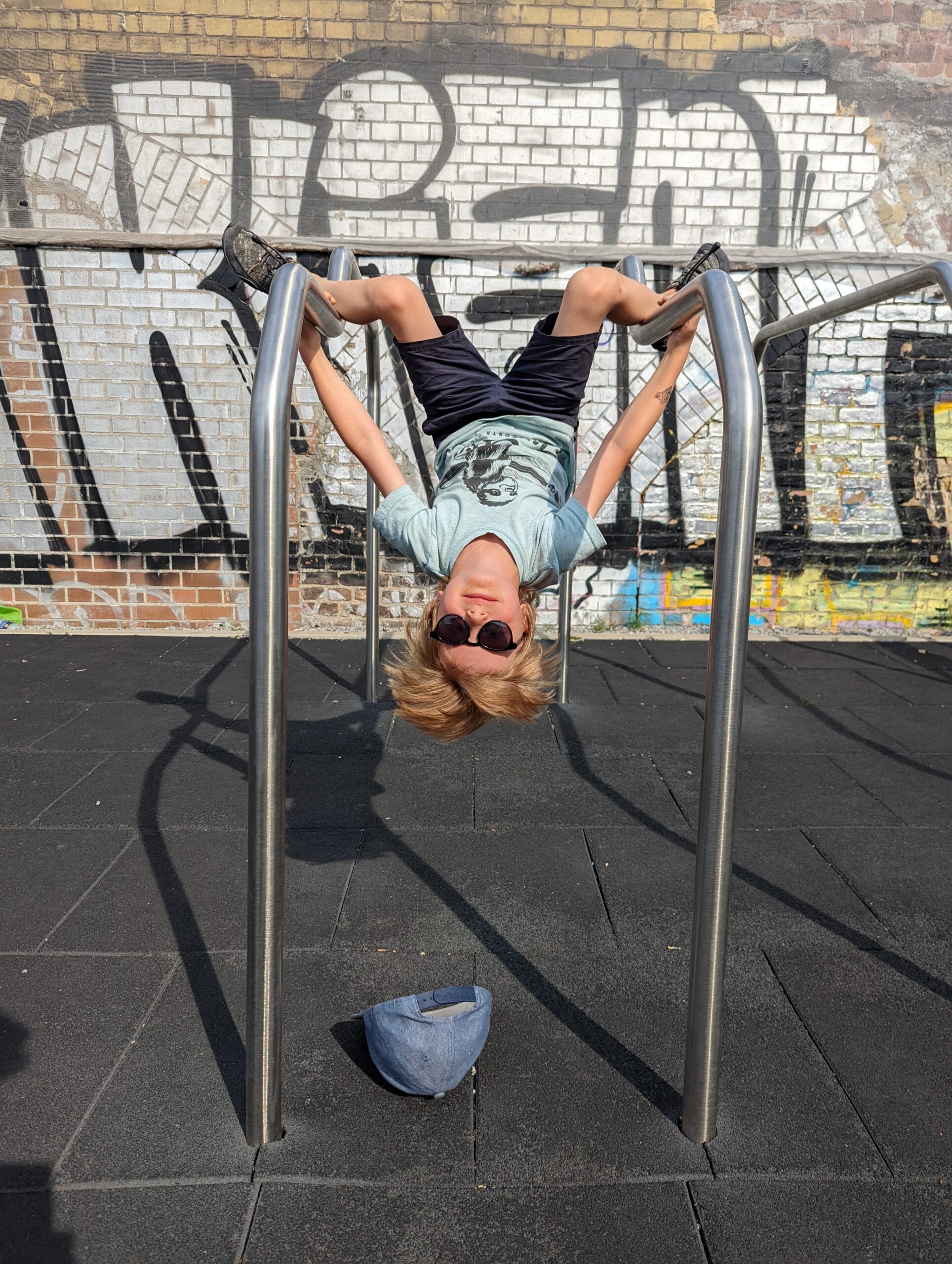 Playful research in Berlin: These are the coolest museums for Kids
Berlin offers a wonderful cultural diversity. Not only for adults, but also for children there is a large number of highly recommended museumsto see.
1. Museum of Natural History Berlin
Off to the Natural History Museum! What could be more exciting for children than to discover nature and its habitat. Not only life-size dinosaurs await you here, but also a journey through the universe and countless insights into the natural sciences.
2. LEGOLAND Discovery Center Berlin – LEGO® indoor playground
The Lego Discoverycenter offers entertaining indoor entertainment for all small (and big) fans of the colorful plastic blocks. From miniature land to the dragon train to the model building workshop, there is a wide range of programs for older and younger children.
3. Foundation German Museum of Technology Berlin
In the German Technology Museum there is a day-long program especially for the older kids. It doesn't matter whether it's wind power, railways, air travel or space travel: there are countless exciting inventions to be discovered here, which are presented in over 20 special and permanent exhibitions.
4. MACHmit! Kids Museum Berlin
In the Kids Museum Berlin are lovingly designed exhibitions that invite "children from 3 – 12 and their adults" to discover and participate. The exhibition "Books are food" is currently bridging the gap between the creation of stories and the printing press.
5. Computer Games Museum Berlin
More suitable for older children, the Computer Games Museum shows many functioning classics (Pong, Space Invaders) and art related to computer games and their history. The playable art installation "PainStation" is only released for die-hard adults for obvious reasons.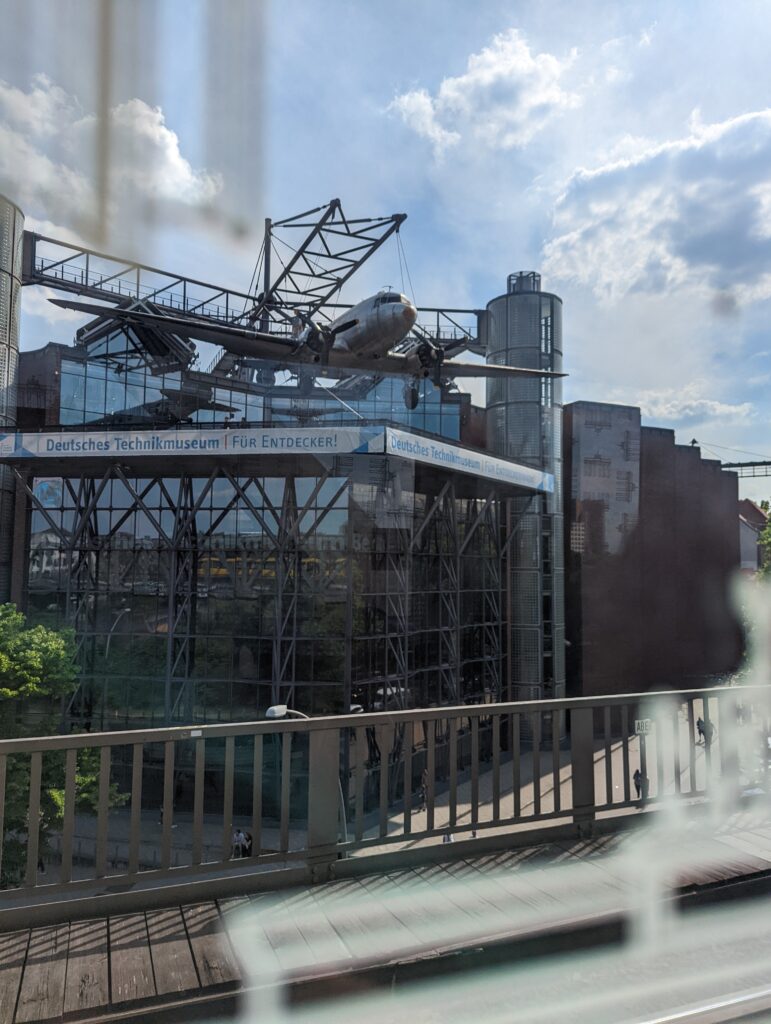 Get out of the Berlin city hustle and bustle into the green heart of Berlin city
Berlin has incredibly great parks and even more exciting playgrounds. This is the perfect balance to give the children time to run, play and let off steam between the program items.
6. Berlin's Natural Park Südgelände
In the nature park Südgelände (between Kreuzberg and Schöneberg) you will find wild forest in the middle of an old marshalling yard. Nature forms an urban wilderness worth seeing here and gives the extensive area its unique charm. There is a lot to discover and a small bistro for your physical well-being. A true paradise for little explorers with plenty of space to run and let off steam.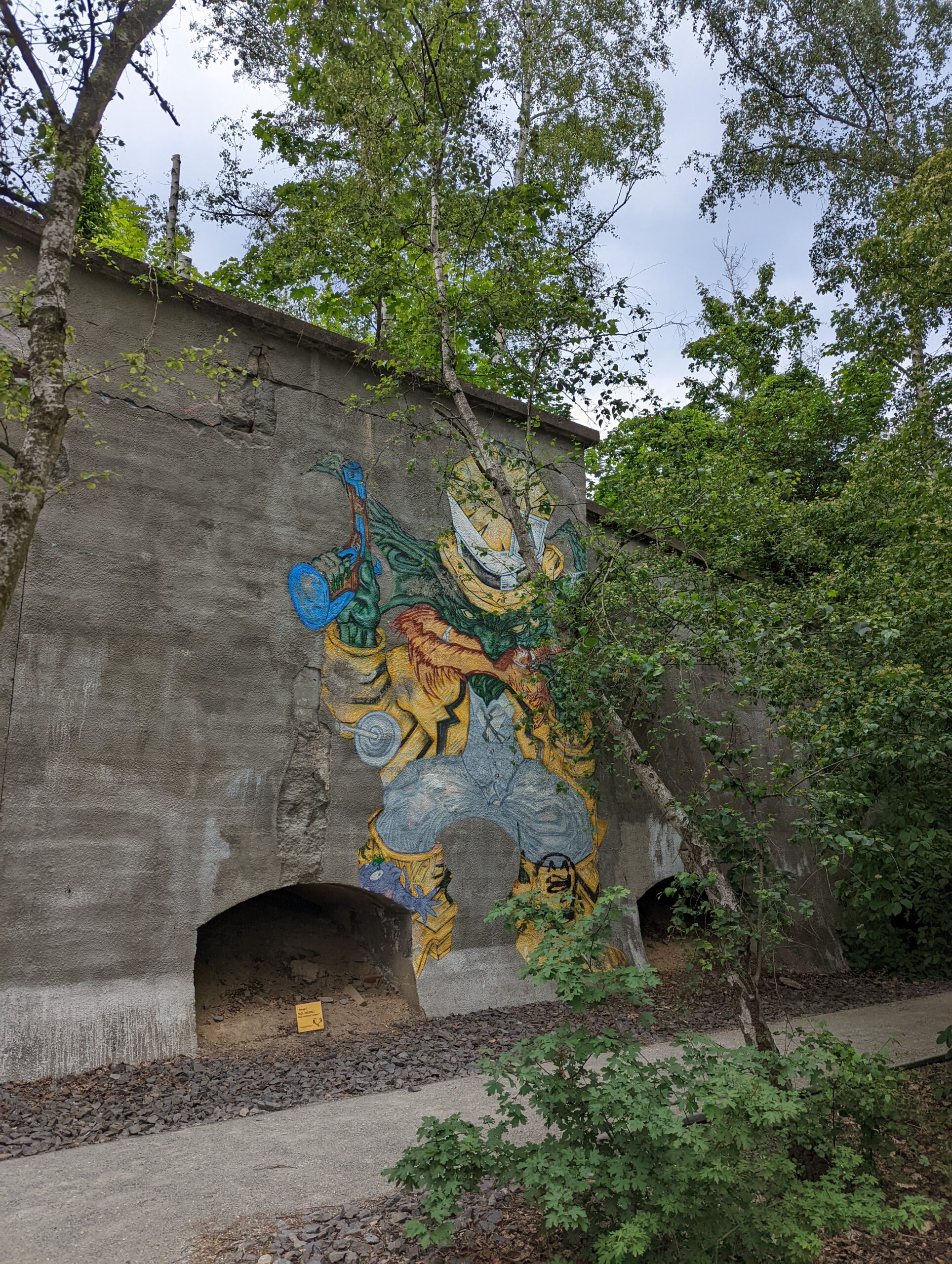 7. Tempelhofer Feld Berlin
The Tempelhofer Feld (between Neukölln, Tempelhof and Kreuzberg) is a resort and tourist attraction in one. The former airport area is being recaptured by nature and the Berliners by storm. Berliners love it – so do we. Between a few barracks and an old plane there are allotment gardens, barbecue & picnic areas and plenty of space for everyone who likes to be on wheels and rollers, whether skateboarding, unicycle or roller skates. Berlin can also boast fantastic Caribbean sunsets. The Tempelhofer Feld is a good place to enjoy this special evening atmosphere.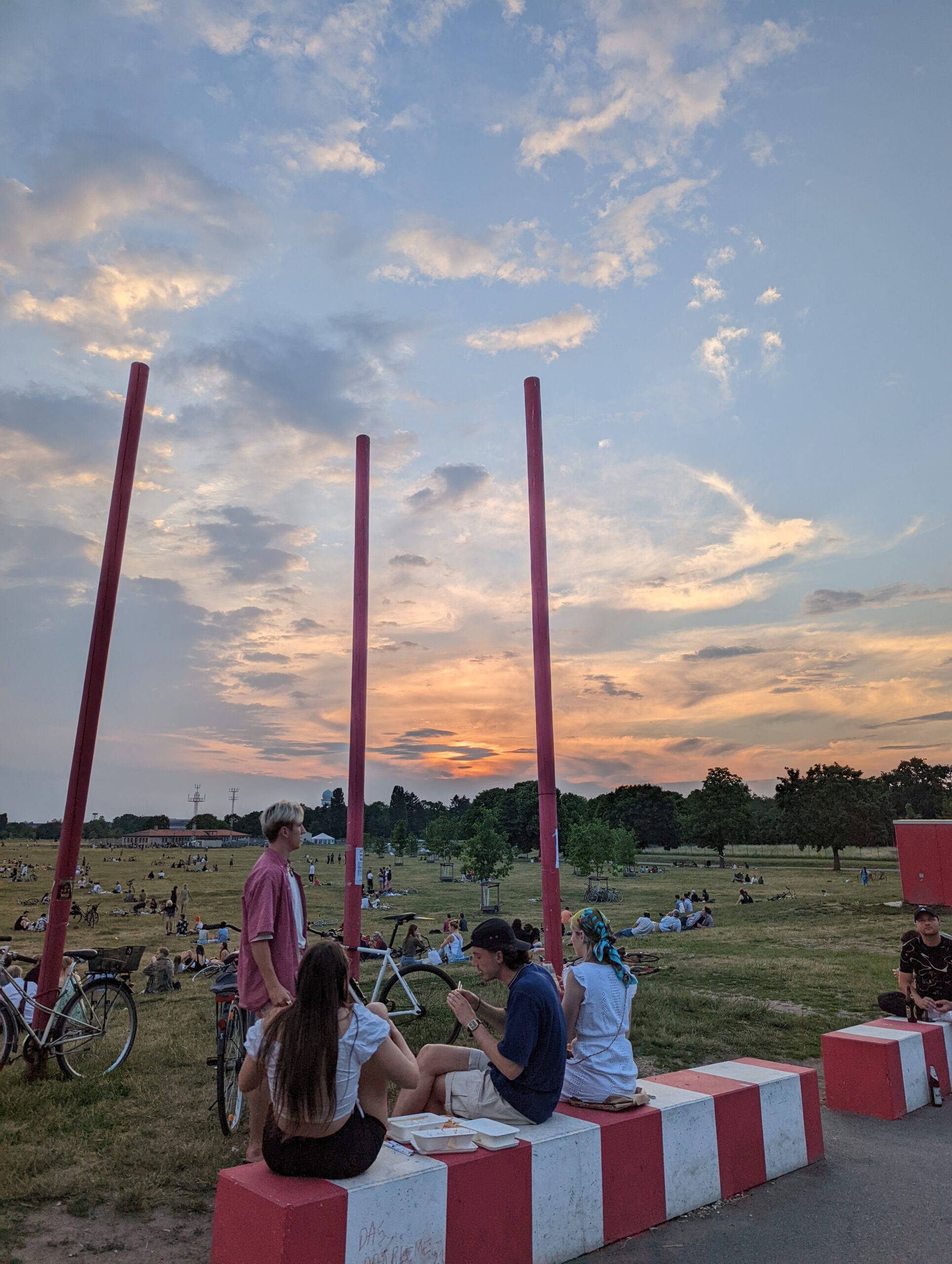 8. Berlin Volkspark Hasenheide
The extensive Hasenheide (between Kreuzberg and Neukölln) is a veritable green lung in the middle of Berlin's urban jungle with several highlights for families: a small petting zoo, mini golf course and a total of three large playgrounds, with Mo particularly liking the 1001 Nights playground. There is also a café and a rose garden to discover. You can spend half a day here, unwind and escape the hustle and bustle of the city.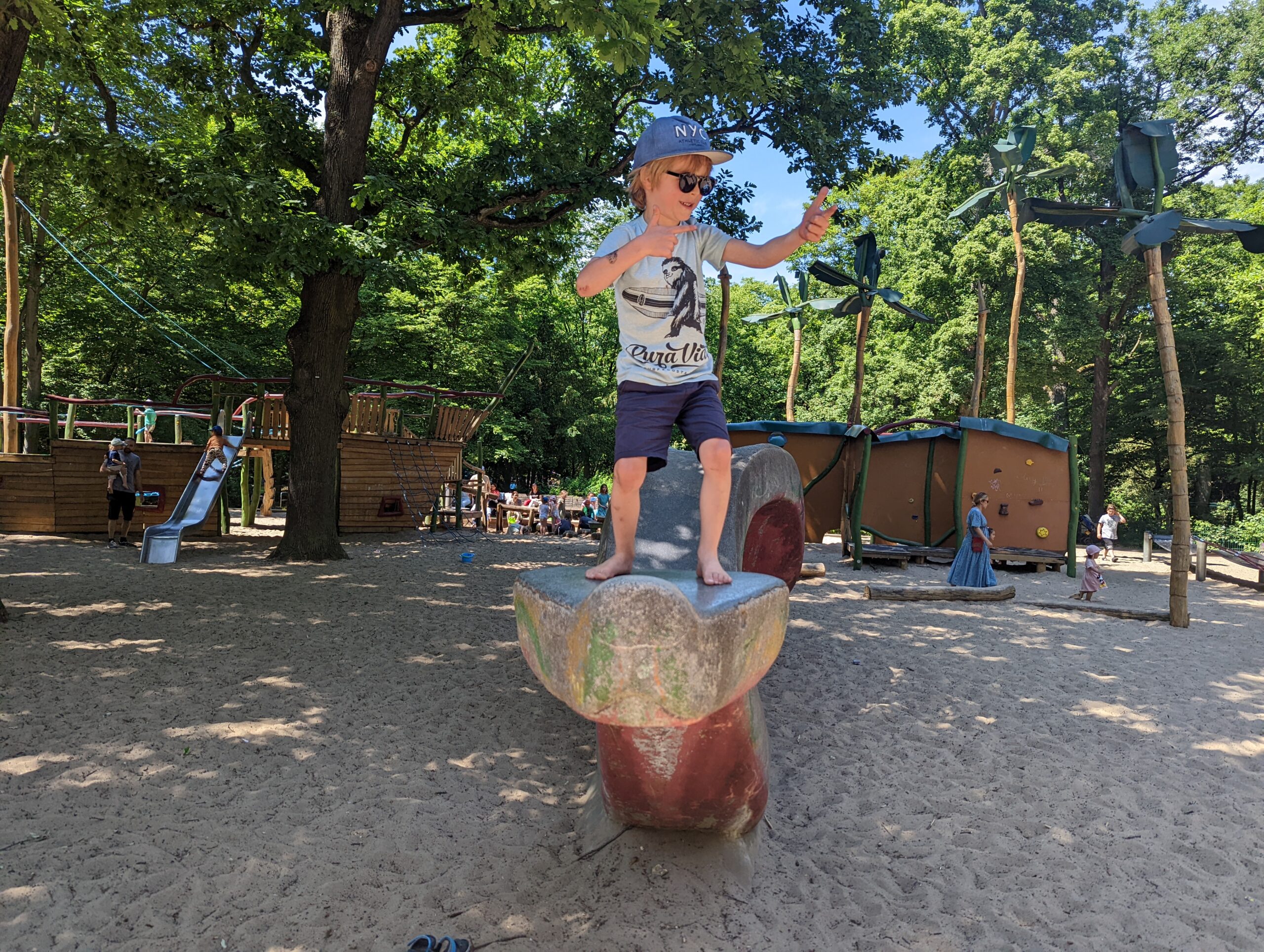 9. Park am Gleisdreieck, Berlin
The park at the Gleisdreieck makes all children's hearts beat faster with high climbing frames, a huge paddling facility, trampolines, a skate park and plenty of catering options (drinks, food, ice cream). While the Gleisdreieck Westpark combines urban flair, music and lots of greenery and chill-out zones, the Ostpark is closer to nature and quieter. Definitely a must-see in Berlin. Go there, relax, enjoy the ambience, because everyone will find their place on the 31.5 hectare area.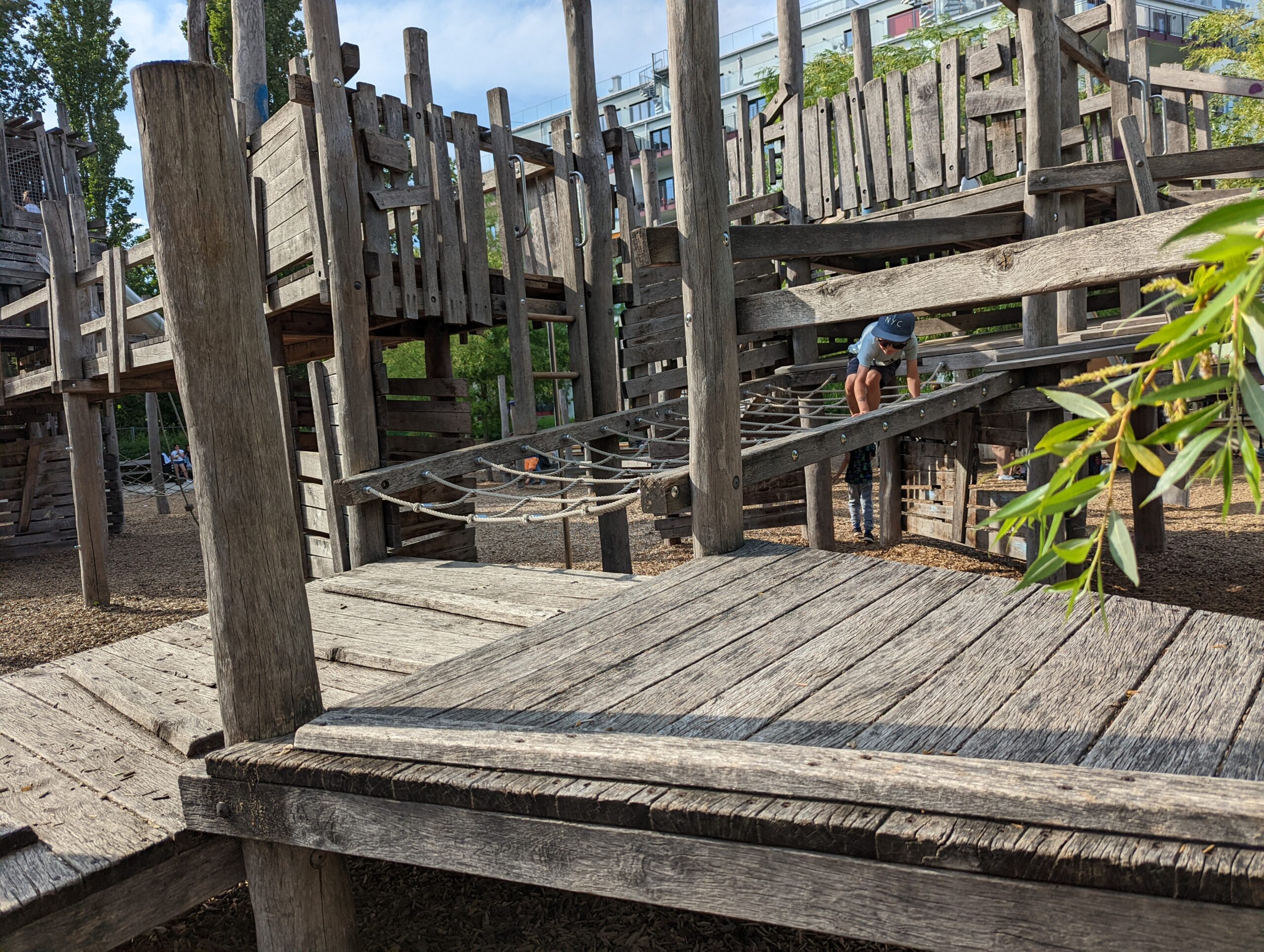 10. Berlin Zoo
The Tiergarten forms the green heart of Berlin, right in the center – right next to the classic sights. The huge park is not to be confused with Tierpark Berlin, where animals from all over the world can be admired!! Although there are no animals in the large zoo, there is plenty of greenery and a large playground with lots of space, soft sand, a zip line, swings, slides and a climbing pyramid. What Central Park is to New Yorkers, Tiergarten is to Berliners and is ideally located to recover from your last sightseeing tour.
Hop-on hop-off through the city by bike
I have to admit, we liked this way of sightseeing best instead of walking from one subway to the next or sitting passively on the bus. Just rent a bike and get to know new corners of Berlin on the many cycle paths. In addition, it's less boring than sitting around forever in public transport and in the evening you (or the kids) are well exhausted. Most of Berlin has well-developed cycle paths and you can rent bicycles for around €5 a day. There are three tour suggestions here:
11. Sightseeing in Berlin by bike
Along the Spree, the R1 Europaradweg (European cycle path) goes west from the Reichstag to Charlottenburg Palace. Bike paths that are easy to drive on take you right through the bustling city of Berlin and past some of the most important monuments: past the TV tower and the Berlin Cathedral, through the Brandenburg Gate to the Tiergarten and, if you want, to Charlottenburg Palace.
12. The Berlin Wall Cycle Path
One of the most well-known cycle paths leads along the Berlin Wall. Starting at the East Side Gallery, you could theoretically drive more than 100km along the former wall. But you can also take it easy and just see how far you can get. The most popular section leads across Potsdamer Platz to Bernauer Strasse with the memorial.
13. Bike tour to the Naturpark Südgelände
Through the Volkspark Hasenheide, over the Tempelhofer Feld through the "garden city" of Neu-Tempelhof, where you almost only pass single-family houses with small gardens to the park at the Gleisdreieck, which you can then explore on foot. Definitely one of the most beautiful and wildest big city oases that Berlin has to offer.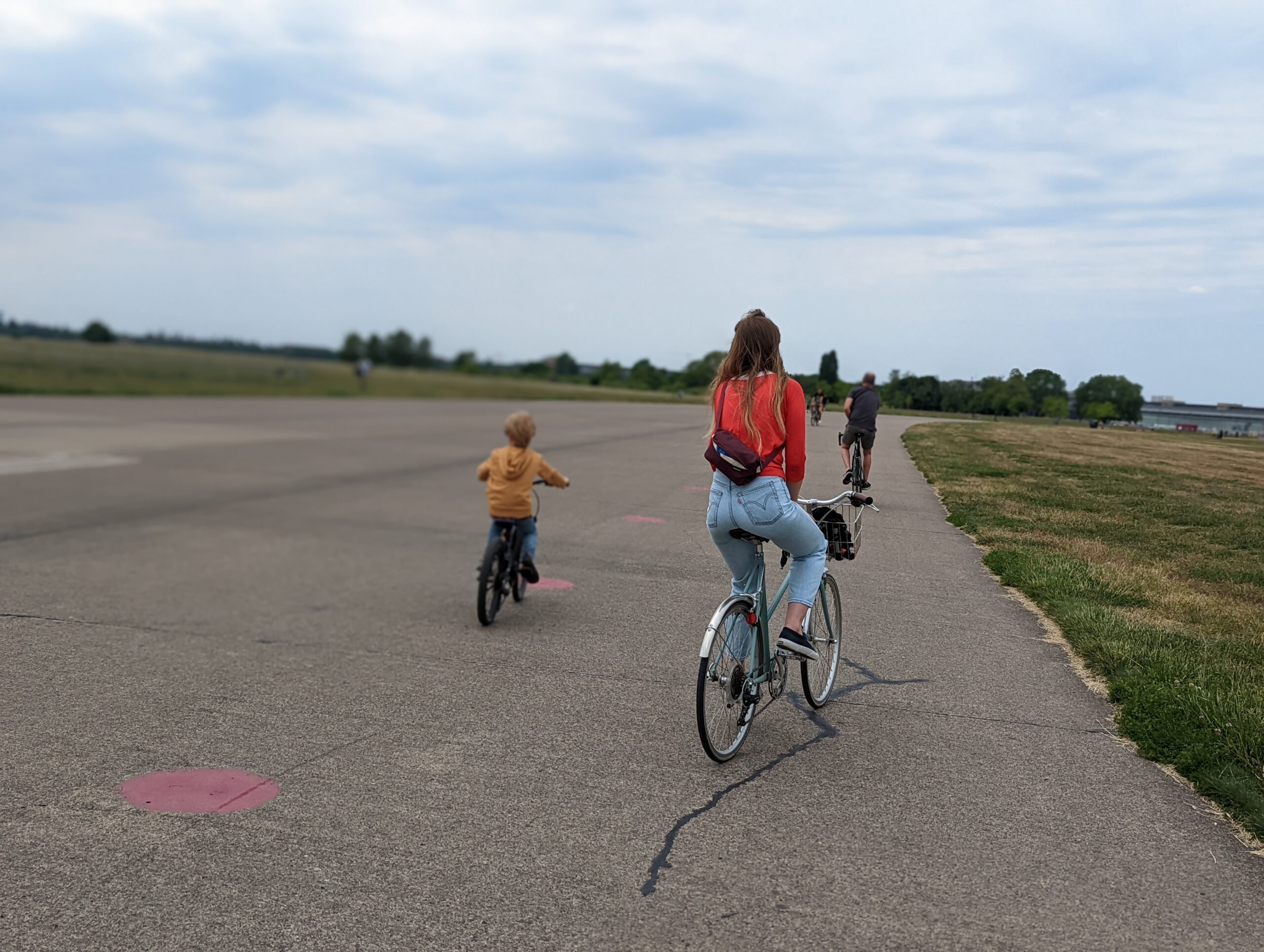 Out of the city – off to Berlins famous lakes
In summer in particular, it sometimes gets almost unbearably hot in Berlin. One more reason to move to the outskirts of the metropolis and to explore the lakes around Berlin. Sure – if you come from Salzburg, you won't exactly be overwhelmed by the water quality, but there is a real beach feeling. Mo had great fun and is still talking about our trip to the "sea" and refreshments are provided. There are countless lakes in the Berlin area, our three recommendations are:
14. Off to Wannsee
The Wannsee is not only the most famous lake around Berlin, but also one of the most popular. Whether it's a walk on the lake, swimming, sunbathing, boating or water sports, everyone will find a suitable corner at Wannsee. In addition, it is not only known for the well-known hit song "Pack your swimming trunks…", but also with the house of the Wannsee Conference as a thoroughly historical place, which today houses an important Holocaust memorial including a permanent exhibition.
15. The pearl in the Königswald, the Sacrower See
The Lake "Sacrower See" is one of the most beautiful sites around the capital. Northeast of Berlin lies this largely wooded nature reserve, the Königswald, with Sacrower See in the center. The sandy beach invites you to sunbathe and splash around in the middle of this lush green area and is very popular not least with families.
16. The Berlin bathtub at the Müggelseen
The Müggelsee is Berlin's largest lake and accordingly offers many different bathing spots. Whether it's a large lido or a secluded, secluded place, everyone will find what they are looking for here. It is particularly beautiful at the small Müggelsee, which offers a not too small sandy beach and a nice sunbathing area in the middle of the pine forest. The shallow water access is simply a dream, especially for smaller children.