On the southern tip of the Nicoya Peninsula lies Montezuma – a place known for its hippie flair and creative dropout community, but also for its fantastic waves for surfing. Admittedly, the place didn't really impress me in 2010 – when I was here for the first time: my impression at the time was too touristy, too artificial. The corona pandemic has also left its mark here and so the small, rather remote nest is now presented in 2021 much more authentically, quietly and idyllically. We actually had to tear ourselves away after spending 5 days here.
Admittedly, the place is not that easy to reach, because the Nicoya Peninsula is not exactly characterized by well-developed roads. People who stray here are mainly young families, backpackers or couples looking for romantic seclusion. The village itself is actually just one street lined with some excellent restaurants and individual shops.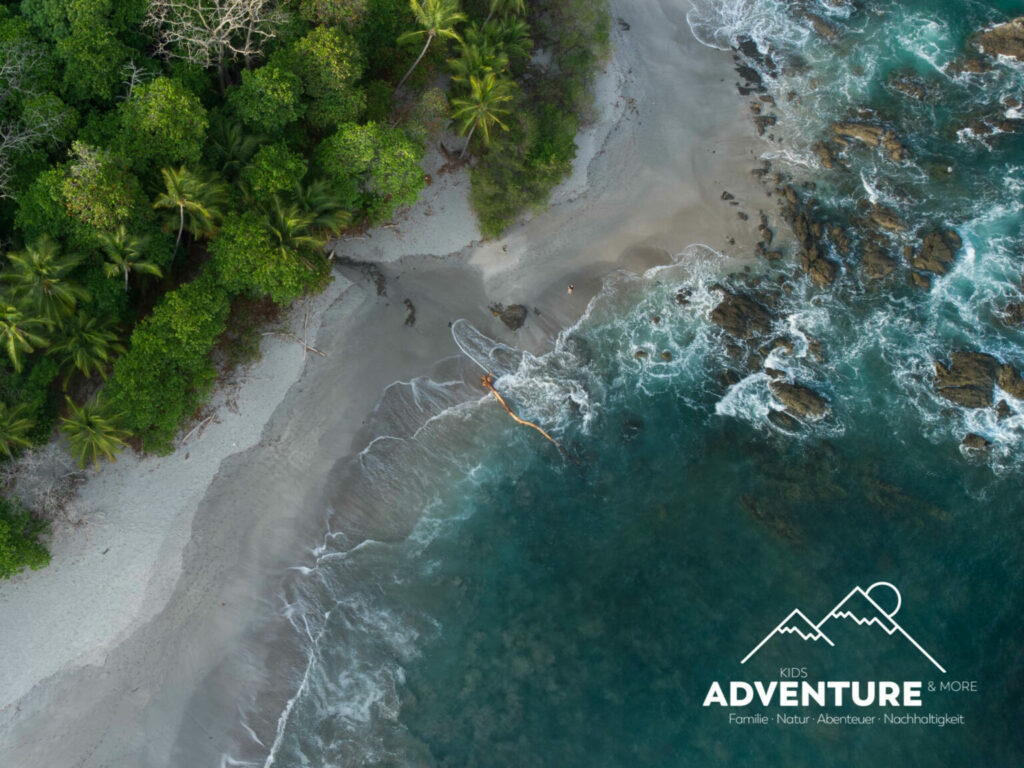 How to get to Montezuma
The easiest way is probably to arrive with your own rental car, 4×4 definitely doesn't hurt. We drove across the mainland from Monteverde to Samara and then via Nicoya on road 21 towards Cóbano to Montezuma. The ride was actually quite relaxed and far less adventurous than expected, which can be quite different in the rainy season. If you're coming from San Jose, it's best to take the ferry from Puntarenas and then the 21 south as well. If you are traveling without your own car, you can take the bus directly from San Jose. The best way to get there is on foot or by quad.
Activities around Montezuma
Fantastic beaches everywhere
It doesn't matter whether it's the beach directly on site or the beaches to the right and left of it – they are all beautiful and yet each one is unique. There are different bays with different types of beaches within walking distance. Fine sandy beach, somewhat coarser shell sand or the "Playa piedra colorada", which can only be reached after a 20-minute walk, where the sand is slightly pink and is characterized by many colorful little stones.
Cascada de Montezuma
There is also a beautiful waterfall at the end of the village inland. This can be reached by hiking along the Rio Montezuma River. You should definitely wear sturdy shoes, as smaller climbing passages are necessary and the stones can be slippery in places. The hike itself is a highlight, as it leads through wild greenery and over rocks in a very entertaining manner. The path is well marked and the pool under the waterfall is good for swimming. If you are a bit more adventurous, you can climb up one floor from there and splash around in one of the two upper pools. We skipped that as it had rained the day before and the trail was too steep and slippery with three kids. The 23m high waterfall is really impressive and very brave ones even dare to jump from the top into the first pool.
Reserva Natural Cabo Blanco
This small nature reserve was the first reserve in Costa Rica. A trip here is definitely worth it. You can see and hear a lot of animals on three paths of different lengths: howler, capuchin and spider monkeys, deer, ocelots, anteaters, paca, sloths and armadillos, as well as pelicans and brown boobies. With a bit of luck you can see quite a lot of animals here, a young fawn was already waiting for us at the park entrance.
The 2km long circular route was more than enough for us. The heat and humidity make hiking a lot more strenuous than at home and with three children the way to Playa Cabo Blanco would have been a bit too far for us. It is best to start early in the morning and take enough snacks and water with you. Admission is a good $14 for adults and $6 for children, and it takes about 30 minutes to get there from Montezuma by car.
Beach walk "El sueño verde"
You start at the school in Montezuma and either always walk along the beach or along the path lined with information boards that leads through the adjacent jungle. Here you can also see animals from time to time, but definitely a lot of birds. The path leads over 3km to Playa Grande and at the end a waterfall awaits you, which flows directly into the sea.
Playground
For us Europeans, well-equipped playgrounds are nothing special, in Costa Rica it is different. This newly opened playground is a great highlight for kids. Three different slides, see-saw animals, swings and even a baby swing right on the beach and in the shade all day is definitely worth a visit.
Proyecto de Conservación de Tortugas
There is also a small volunteer organization for sea turtle conservation. Here the eggs are guarded and counted in a small fenced area. If you are lucky and are there at the right time, you can see small baby turtles hatching and watch their way into the water.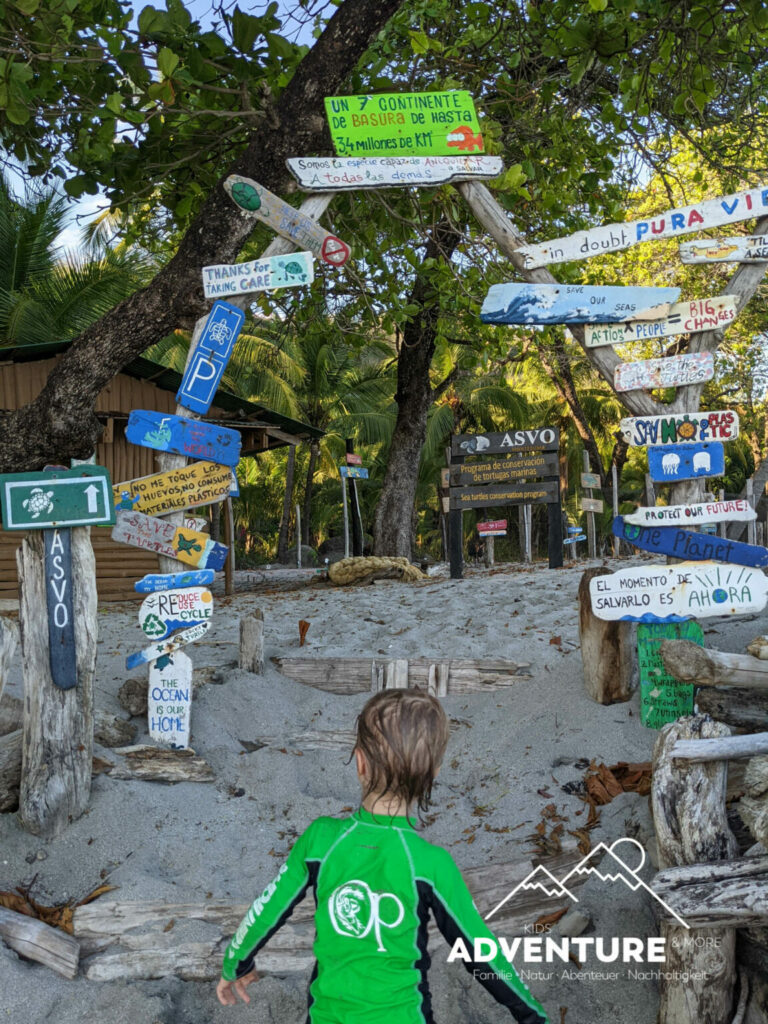 Accommodations
Finding nice accommodation is not difficult here. Montezuma offers something for every price range. Be it the high-end Hotel Ylang-Ylang, a room for $20 per night or – where we stayed and what we really want to recommend: the "casa coloradas" located slightly outside of town on the hill. The family hotel consists of several brightly colored houses of different sizes with their own kitchen, terrace and bathroom. Each house is quite isolated and offers a lot of privacy. The small bungalows are located in a large garden, which is characterized by old trees and lots of animals living in them. So it can happen that howler monkeys wake you up in the morning or an agouti walks by at breakfast. The equipment is a bit older but very well maintained and the property has charm, and also very nice owners. There is a good sized pool and lots of fruit trees. It was here that Mo discovered his love for star fruit. There are also two campsites nearby, of which the "Fernando Morales" in Cabuya can definitely be recommended.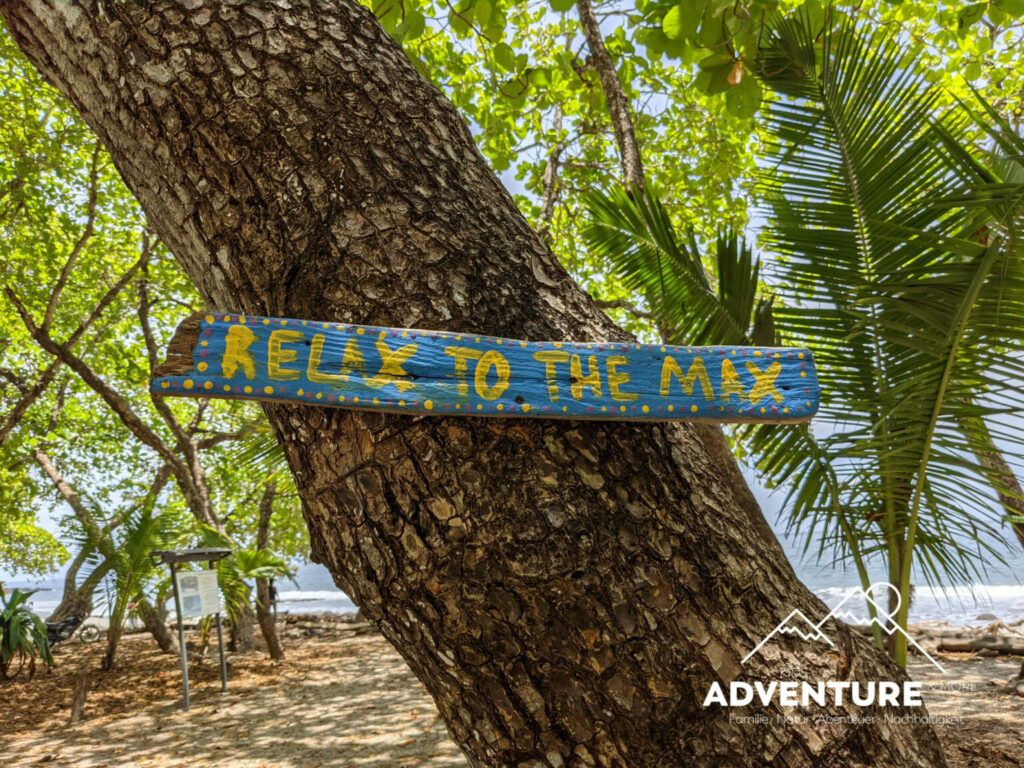 Good to know
There is no ATM in town, but many things can only be paid in cash. The next possibility to get money is in Cobano, about 10km away. Here you will also find a wide range of larger supermarkets, workshops and other services that you may need. However, the two local supermarkets are quite well stocked, so that nothing is missing here. The infrastructure in terms of restaurants is large and leaves little to be desired in terms of taste.

LET'S STAY CONNECTED!
Follow on Facebook, Instagram and Pinterest