Dense green as far as the eye can see and millions of tiny water droplets, much finer than drizzle, that land on our skin. It almost feels a little like in another world, similar to a fairy & elven landscape from Lord of the Rings. But it is much more than just that. Monteverde (Eng. The green mountain) is one of the most important nature reserves in Costa Rica. Located at 1300m in the central highlands, the cloud forest is also one of the country's tourist highlights.
Its peculiarity lies all above in the fog, which whips over from the sea as a moist, hot wind to finally condense as rain and fog on the cool Monteverde. Even on arrival you can feel this wind, which – at the end of the dry season – sweeps over dry, almost parched land, while in the distance dense, lush green shines again and again: Monteverde. If you're not careful, your sunglasses will blow off your head here. The steady stream of moisture, which almost exclusively precipitates in one region, created a unique thicket of ferns, bushes, grasses and trees that do not scoff at the term "giants".
No longer an insider tip, Monteverde and the center of the region, Santa Elena, have retained their charm. The restaurants in town are expensive, but creative and tasty. The spectrum of tourist infrastructure offers a program for a whole week. Here you can march over the treetops on suspension bridges or, like Tarzan and Jane, whiz across the mighty treetops with zip liners, visit the butterfly garden, Kolibricafé, reptile zoo and bat house or take a coffee tour.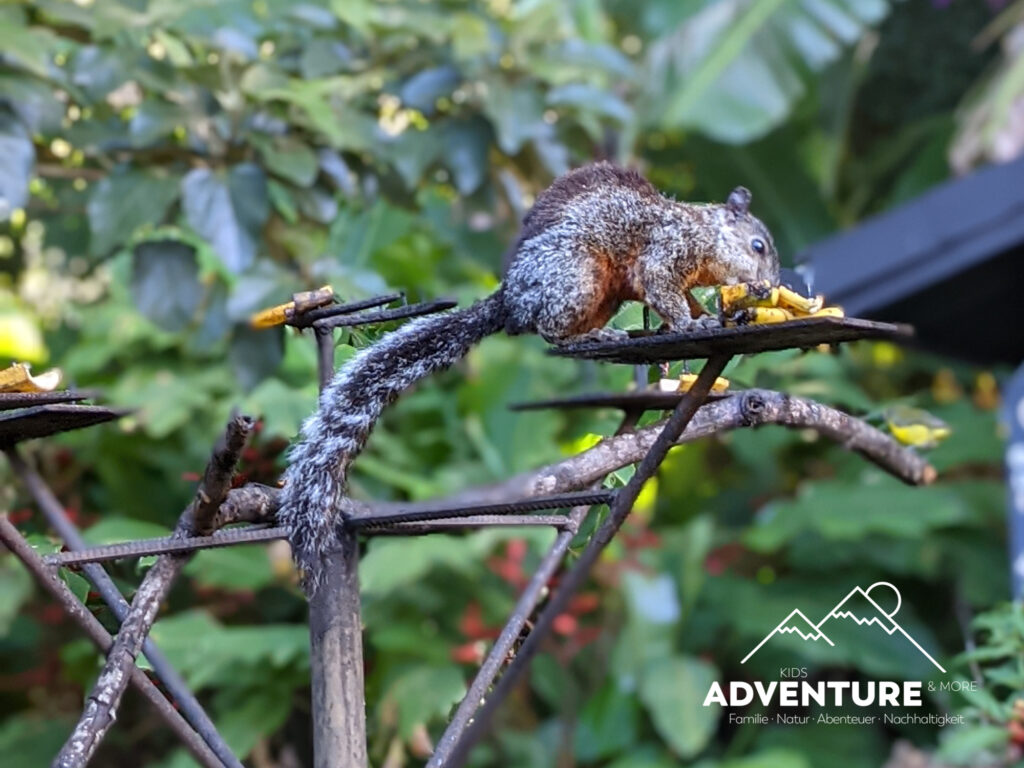 Activities that we have selected for our 2 days stay:
Reserva Monteverde
The nature reserve is a highlight, especially for nature fans. Numerous hiking trails run through the area, which can be linked together to form a circular route and thus individually adapted to the desired difficulty and duration. The paths lead almost exclusively through primary forest. This is forest with really old trees that grow really tall. It goes a bit uphill and downhill. You shouldn't be prepared for large animal observations here, because these usually stay in the well-protected thicket, the inaccessible areas (only 2% of the reserve is open to visitors). Nevertheless, the thicket of giant trees, bushes, ferns, lianas and climbing plants is impressive. There is also a suspension bridge and a small waterfall to discover on the paths. We were unlucky and saw no animals apart from two fat black birds with blue beaks. In the long run, this made the forest hike through the less varied landscape without any views a bit tiring.
Night hike
An absolute highlight was the guided night hike through the cloud forest. We made our tour in the Reserva de Santa Elena, where we could see various animals, including a sloth that unfortunately hid very high in the treetop, a brooding hummingbird, sleeping birds, a nimble scurrying armadillo, a wrapped bear climbing high, spiders, Cockroaches – you name it. Our tip: wear long clothes and either enough insect repellent or – as we do – wear appropriate clothing.
Selvatura Park
The Selvatura Park is probably the most famous private reserve in Costa Rica. Everything here is geared towards the tourist experience in the jungle and there is something for every taste, which you can pay for accordingly. The well-known suspension bridge tour is also located here. A beautifully laid out 2.5 km long hiking trail leads directly through primary forest and also again and again high above the ground over 7 suspension bridges through the treetops of the forest, where – with a careful look and in good weather – you can spot some animals. In addition to the suspension bridge tour, you can also book zip-lining (canopy) here, as well as see butterflies, sloths and reptiles.
Travel costs:
Monteverde is a comparatively expensive patch. The entrance fees for suspension bridges or canopy quickly amount to a good $ 50 / person and up. For dinner you can expect around $ 20 per nose (or stomach?) Including a drink.
Weather and travel time
The rainy season usually falls in the months of May to November, but when we were there in 2021 it started much earlier than usual and so the rainforest feeling was complete. Basically there is always 100% humidity in the forests, which is due to the climatic peculiarity of the area and also the unique vegetation and fauna. Good rainwear and hiking shoes are therefore part of the basic equipment when visiting the place, because the name cloud forest is no coincidence.
Getting there
The journey to the tourist center in the northwest has long been considered an absolute adventure for off-road fans. We have made the experience that the "gravel road" is very well prepared and like our 4×4 did not even have to switch on. But there were gusts of wind around 100kmh and a rainbow that accompanied us to our destination and almost seamlessly merged into a spectacular sunset. Unfortunately the only play of colors that we were able to experience during our stay. Depending on the location of the accommodation and weather conditions, all-wheel drive is of course still useful. If you are traveling by public transport, you can either take the shortcut from Arenal across the lake or travel by bus from San José or Tilarán.
LET'S STAY CONNECTED!
Follow us on Facebook, Instagram and Pinterest and stay updated.