Puerto Morelos is a very idyllic little town on the Yucatan Peninsula. It is only about 30 minutes from Cancún Airport, between the two resorts of Cancún and Playa del Carmen. The small town is perfect for families who like to vacation away from the big tourist hustle and bustle.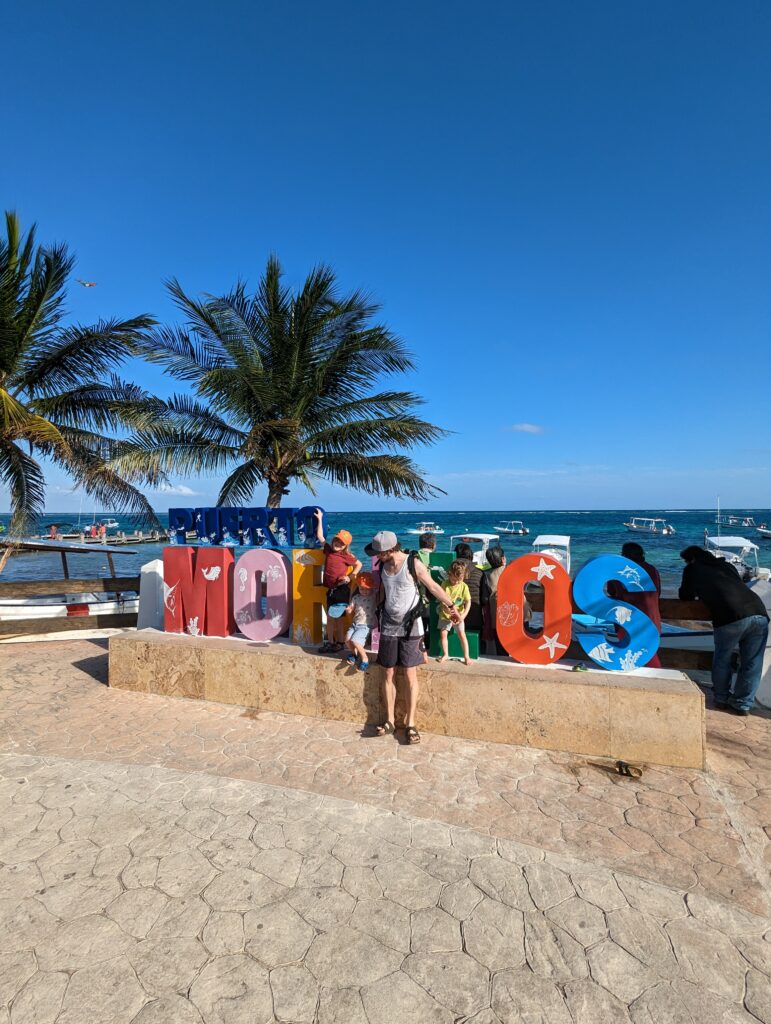 We spent the first days of our Mexico road trip with children here. Simply arrive comfortably, overcome the jet lag, adjust to the new environment and find your way around. Puerto Morelos offers a good infrastructure with everything you need with children, there are a lot of hip and delicious restaurants, cafes and ice cream parlors, Caribbean white sandy beach and quite shallow turquoise blue sea. The well-equipped supermarkets and pharmacies are also very practical for stocking up on necessities such as diapers, mosquito spray or sunscreen. There is also a small reef for snorkeling right in front of Playa Puerto Morelos.
The center of the town is the park with a large and really cool children's playground overlooking the sea. Directly opposite you will also find Café Amancia, where you can get a super delicious breakfast. Just around the corner there is a highly recommended ice cream shop (Heladería el Cafecito de San Jose) and at the weekend there is a market with all kinds of handicrafts for those who want to stock up on the first souvenirs.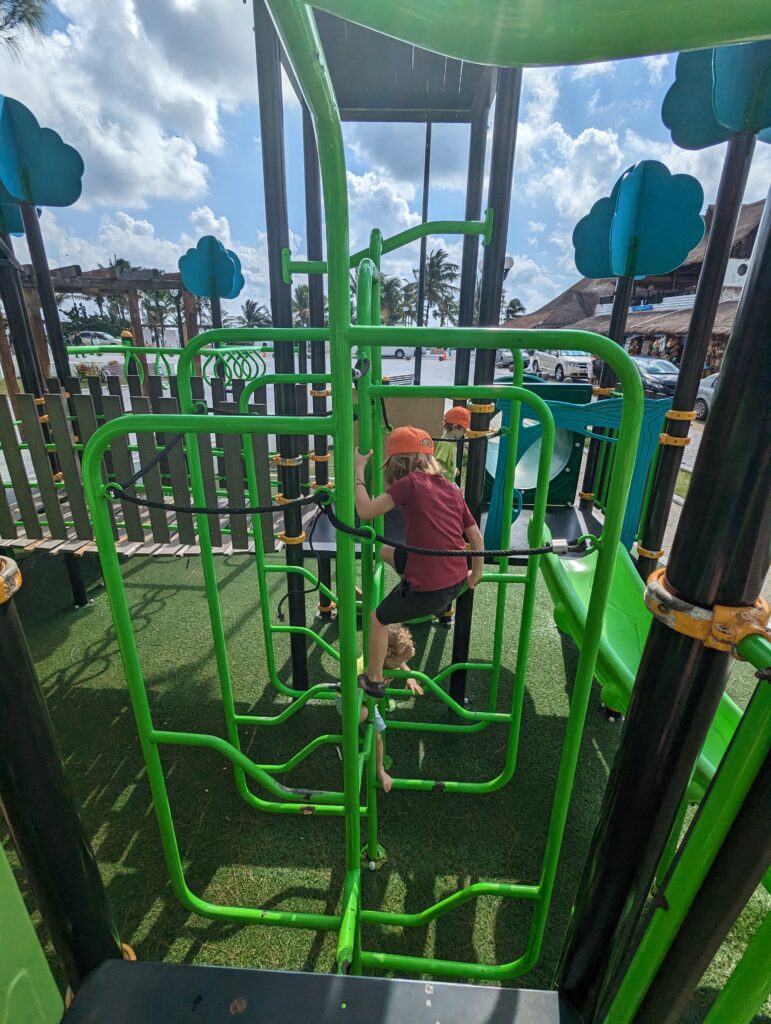 For those who want a little more action, there is also a good range of activities and excursion destinations that are worthwhile with children.
Activities in Puerto Morelos
Playa Publico de Puerto Morelos
Playa Publico Puerto Morelos is a wonderful public beach that borders the center of the city around the park and market square. The rather narrow beach is also very popular with locals and accordingly well frequented. But even on a Sunday in February we had enough space to run across the beach with the boys. The many bars and restaurants bordering the beach make cool drinks and good food within reach, even when the little ones are buried in the sand.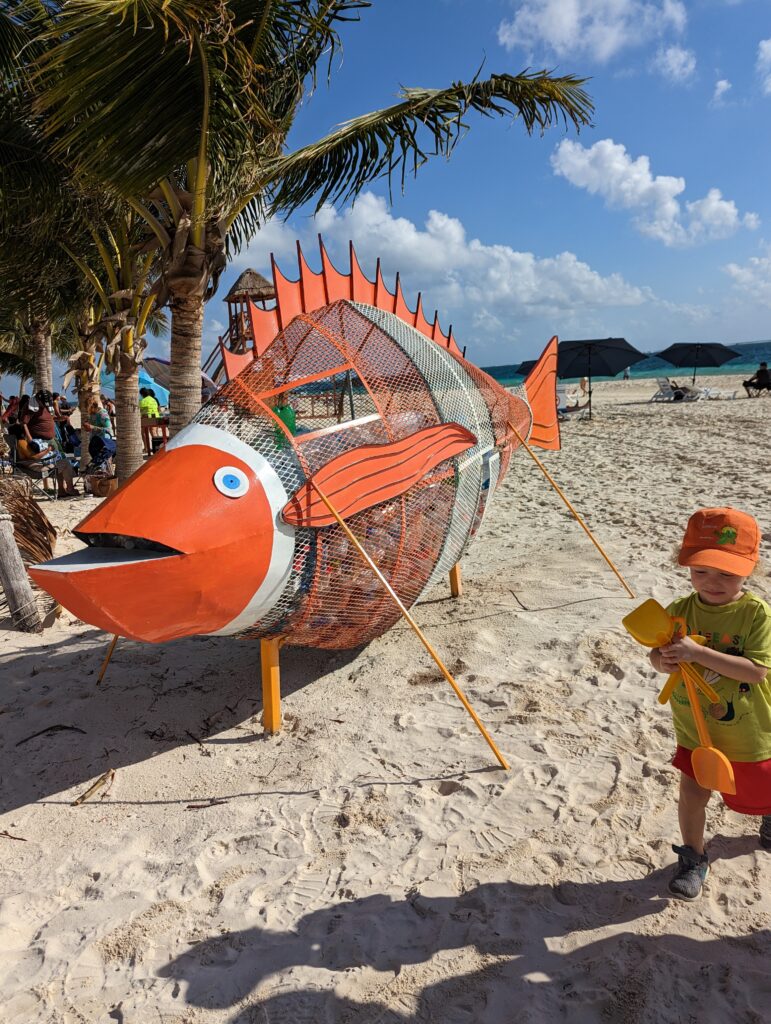 Sargassumam Playa Puetro Morelos
As in most other coastal towns of the "Riviera Maya", Puerto Morelos also has a real problem with brown algae, which sometimes wash up in abundance on the actually white beaches. When we visited Puerto Morelos in February 2023, there was actually always a continuous but narrow strip of brown algae on the beach, but it didn't really bother us when sunbathing, playing or bathing. However, stinking mountains of brown algae are more likely to be expected in the months of June to August, as the algal bloom intensifies the phenomenon. The brown algae plague is a direct effect of global warming, but above all also the agricultural sewage, which brings large amounts of fertilizer to the Caribbean via the Brazilian Amazon.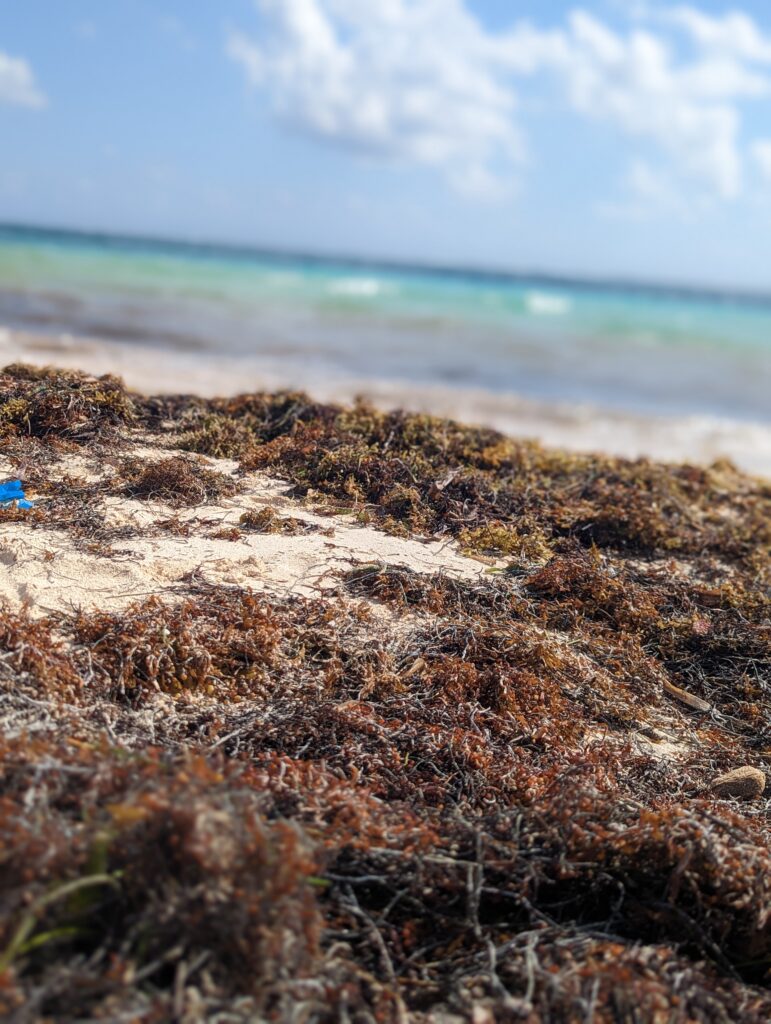 The most beautiful cenotes around Puerto Morelos
We will often encounter the cenotes – the well-known Yucatan waterholes shimmering in shades of blue – on our journey. Anyone who finds the sea too salty can always visit one of these cenotes. Some of them are in stalactite caves, others are more like Austrian lakes. There are also some of these cenotes near Puerto Morelos, so that a "Ruta de los Cenoes" was created here immediately. These are well-developed natural pools that can be explored on a tour starting at Puerto Morelos. Whether you are looking for a quiet place to snorkel and splash around, jump in from above or prefer to zipline over it, everyone will find something here.
The most famous and recommended cenotes in the area of ​​Puerto Morelos are
Cenote Sol y Luna: for action & Zipline lovers with jumping platforms and bar
Cenote Las Mojarras: quiet, cheap and equipped with hammocks
Cenote Boca del Puma: half in the jungle there is an open cenote and a closed (cave)
Cenote Kin Ha: for snorkelers, high jumpers, stalactite lovers and cavers
Croco Cun Reptile Zoo Puerto Morelos
The Croco Cun Zoo is for anyone who has always wanted to see crocos up close. During the one-hour tour, you will learn everything you need to know about the regional animals and how they can be protected. In addition to many crocodiles, you can also spot monkeys, wild cats and parrots here. Croco Cun is open daily from 9:30 a.m. to 4:30 p.m.
Puerto Morelos Botanical Garden: Jardín Botánico Dr Alfredo Barrera Marín
If you fancy a short hike through local fauna, various birds, orchids and Mayan medicinal plants, you should not miss the botanical garden. You can walk through the area for a good 2km and, with a bit of luck, even discover monkeys, there is also a lookout tower and a small Mayan ruin. If you go here, you should definitely have mosquito spray with you.
We spent a total of three very relaxing, beautiful days here in Puerto Morelos and would definitely recommend this place. After overcoming our jet lag, we traveled on to Tulum. More on that soon.